Sports Provision
Children at South Moreton have access to a broad and varied curriculum through their PE lessons, experiencing both individual and team activities. Facilities are excellent to provide these high quality lessons, with a well equipped Sports Hall and extensive playing field. We aim to encourage children to try all new activities, to perform and participate to the best of their abilities and enjoy the effects of being physically active. In essence we are trying to promote good lifestyle choices for their health and well being, while encouraging enthusiasm and determination in the range of activities. Some PE lessons are supported by specialist teachers and coaches, e.g. dance, gymnastics and cricket.
Many children have the opportunity to take part in competitive sports; South Moreton has an extensive competition calendar, participating in local football leagues and netball tournaments with other local schools.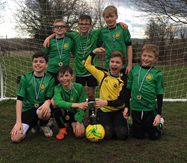 Girls football team 2017-2018.
Boys Football team 2017-2018 and victors of the Vale of the White Horse Football League.
Extra Curricular Provision
South Moreton offers a variety of extra curricular clubs, which change according to the season.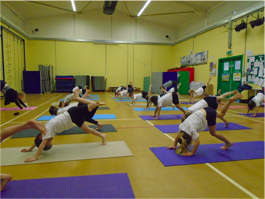 Yoga Day. Every class experienced a yoga session, March 2018.
Swimming
Our current Year 6 cohort contains 20 children. Of these, 17 children can swim 25m or more. Swimming lessons for Year 6 will be taking place in June.