Welcome to South Moreton Primary School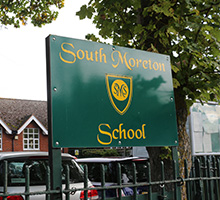 Established in 1896, the school has a long history at the heart of South Moreton village. We have extended and improved the buildings and grounds over time to accommodate our rising roll. Our curriculum has changed too over the years to continue to ensure that our children are as well prepared in their primary phase as possible. The school serves the villages of South Moreton, North Moreton, Aston Tirrold and Aston Upthorpe. We also have children on roll from Didcot, Wallingford and surrounding villages. We are an eco-school having achieved our 6th eco flag in July 2017, teachers have a creative approach to the curriculum and learn outside whenever we can. We believe in educating the whole child and our approach is to foster learning, imagination, creativity and individuality.
In June 2017, South Moreton School joined the Oxfordshire Diocesan Schools Trust.
We have happy children, committed and experienced staff, an active PTA and a supportive Governing Body.
I am pleased and proud to be Head of such a special school. We welcome visitors, if you are interested in finding out more about our school and current availability of places please telephone or email our office address to arrange an appointment.
Mrs Cheryl Sánchez, Head Teacher.